Soraya: «They call me a bad mother frequently, but it doesn't affect me»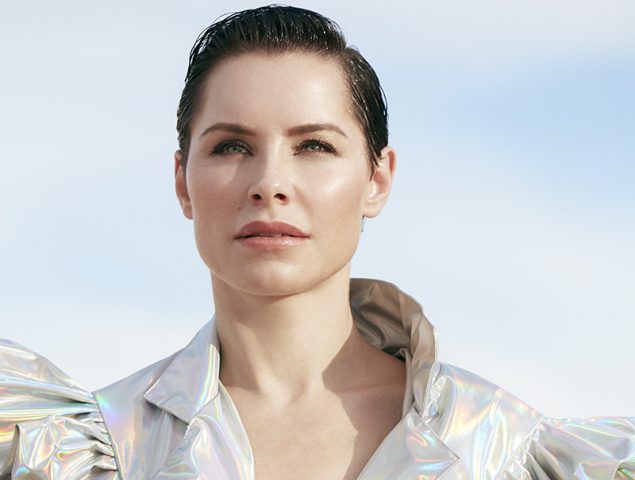 The singer publishes this spring Lights and Shadows , her "best and most biographical" work to date. On the occasion of the premiere, talk with S Moda about the Rosalia phenomenon, sexism in music or how to deal with digital haters . While celebrating its 15th anniversary in the industry, Soraya Arnelas (Valencia de Alcántara, 1982) says she is convinced to have both the public and the place to continue in it for many more years. The Extremadura singer, who first was the OT , then the Eurovision and then the image changes, now wants to be the one of Lights and Shadows , which she defines as the "album of her life". In a figurative and literal sense, taking into account that each of the songs that make up the album - on sale next spring - are autobiographical. During the talk with S Moda,Soraya shows the same honesty kamikaze in his answers, knowing at this point that in the current scenario any topic can be the one that closes the party. Just in case, you better dance them all.
Your public image has always radiated positivism. What are those shadows that give title to the album?
I needed to communicate from another point of view and take off a backpack of vivid chapters that reflect the woman I have become. With lights and shadows. Because not a lifetime is reflected through good times, there are also complicated ones.
It's been more than five years since you released an album. The industry now prefers to bet on the single but, is it difficult to know that you play everything on one card?
It depends on the artist you are. When you are new you need to go single by single for a budgetary issue, because the music industry is not willing to spend. They are testing and if it does not work they recycle you: they put you with another singer to do a duet or they throw you directly. After so many years of career, I think I have a place in the industry.
You have invested a lot in Lights and shadows , emotionally and economically. Have you thought about what will happen if you don't like it as much as you would like?
Since I started I have sought to have a plan b, because this profession fluctuates a lot. Much of my money has been invested in music, but I have also made sure to invest another part in things that give me benefits. I am not as brave as people think, I have not played all the cards to win or lose. And less with my daughter, and less in these times. You confessed to having suffered episodes of crisis and anxiety in the past, have you left them behind? Let's say I get along better with them. Now I am a little more romantic, because I know that I have my family and that whatever happens I am accompanied. I don't have that anxiety to search my site. I have never dropped my rings and if I had to leave this country to look for opportunities outside I would.
Are you ready to leave the music?
If necessary, absolutely. But I have the feeling that this album is going to be important. It is something that I have heard from other colleagues, that when you are about to throw in the towel and it seems all lost, the disc of your life comes. And it comes because you have not imported anything, because you have opened 100%. On the Internet there are a good number of articles in which the headline reads something like "the shocking physical change of Soraya after going through the operating room." Is this usual? Yes, there is a certain tendency to attack me physically because I admitted to having operated my nose and chest. Once you cross that halo of sincerity with the public people are willing to do everything, you become the target of fire. They say that I have operated my lips, that I have put on cheekbones ... It is the daily routine. But it's my important thing, which is my family, not what they say about my physique. We have experienced a boom in the defense of women's rights, have you noticed any change in sexist behaviors within the industry? I have noticed an empowerment by singers, producers, music ... We are joining each other, we are resurfacing. The culture of our country has always been very macho and we must break with it. In the professional section no, but in the staff, before being a singer, I did suffer a complicated episode with a couple that was quite macho. I left him on the road and from that I drew many conclusions.
In what sense?
He was a very jealous man. There are only two solutions there: either you let yourself submit or you throw away your own palante . And that's what I did. Have you ever felt reified? Whenever I have taught meat it was because I felt like it. Moreover, if you ask within the industry, within the record companies, I am one of those who punch the table. That's where respect begins, when you set the limit yourself. That is what the women of my house have taught me in my house. And in this current political climate, have you ever avoided giving your opinion for fear of possible reprisals? It is not allowed to talk about politics in the music industry. It already happened to a partner who positioned himself with the PP ... Russian Red. Yes. He had to go to Los Angeles because positioning is the worst thing he could do with his career.
Do you prefer to avoid it?
I can talk about how I see what is happening in the country because I live here and it influences me, but I would never position myself with the party I voted for. I must recognize you - and I don't care if you write it - that I am quite chaquetera in political matters, because I look for my benefits. I vote for that party, and I have voted for many, which offers me benefits for my economy and for my family. What everyone does. Your passion to change the image and the wigs is famous. How did this idyll begin? Because God did not give me wonderful hair, I have always had very fine hair. Among the possible solutions, the best one was that of the wig, which also allows me to radically change the image. In the United States they have it very established: Kim Kardashian, Beyoncé… they all wear wigs. In Spain little by little we are entering the game, but it is still associated to being sick and it seems that it bothers a bit that a person who is not can use them.
And as for the haterism of social networks, is it better to answer or ignore?
It is always better to answer and whoever says no, lies. I stay very calm every time I answer and put a person in his place, because it is better not to keep things that hurt. In the end what they are looking for is their moment of glory, but if you respond well it hurts, it hurts a lot. When you participated in Eurovision in 2009 you received many criticisms. How did you handle it? Eurovision left me with two years of an episode of major anxiety. It is a phenomenon that is lived with great intensity and I got carried away. In the staging, for example, I had neither voice nor vote and they took away a part of the team. Besides, I had been singing for a short time ... I felt insecure.
Did you regret having applied?
No. Looking at it from a distance I learned one of the most important things in my life, which is to say 'no'. When I returned I took the reins of my career, mounted my record label and said, 'Now it's me who decides'. It was also beneficial because an important fan club was created and I made myself known. I have had many concerts in Europe thanks to the festival. On the album you dedicate a song to your daughter Manuela. Did you have to plan your pregnancy so it wouldn't affect your career? Being a mother has always been one of my dreams, but when I was going to get pregnant I was afraid because we have an annual routine: take out single , do the promotion and the summer tour. Thank God, I was able to work with Manuela until the eight months.
Have you ever questioned your ability to reconcile maternity and profession?
Constantly. First, people get upset because I take my daughter out on social networks. Second, that if I go in the car and take it backwards or not. Third, why am I going to celebrate her birth six days later and leave her with my grandmother ... Well, I left with my husband because, when a father and a mother are happy, those children will grow up in an environment of respect and love. That is the basis of education in my family. They call me a bad mother frequently, but it doesn't affect me. In the list of successes of Spain in Spotify the overwhelming majority of the most listened songs are reggaeton or trap. Is it possible to succeed in the industry today if you don't adapt to this kind of rhythm? Let them tell Rosalia ... Whoever takes the risk, is authentic and trusts in his product, he always has to win. There are many people who are fed up with reggaeton, both in Latin America and in Spain. And I say that I consume it and I have Latin bases in my repertoire. But people are fed up, there is a need for change and there will be. The Rosalia phenomenon also brought with it a debate about whether its success was legitimate or a marketing product . It is superlegitimate. The marketing is, but talent above all. I am inspired by his courage, how he has opted for such a purist genre and adapted it to his personality. The Rosalia phenomenon has not been lived for a long time, I think the only one that can be compared with it would be a Julio Iglesias. I am glad that it is the standard bearer of our culture.

Article updated on January 18, 2020 | 18:25 h