Soraya Arnelas: "When I don't have concerts, I'm the one cleaning and scrubbing at home"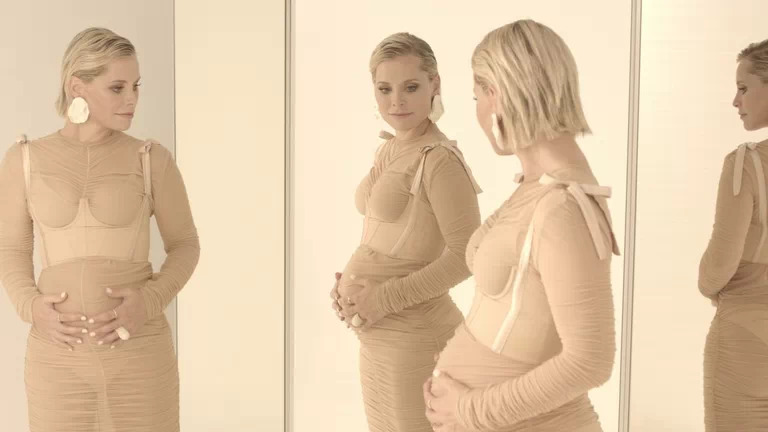 Soraya Arnelas (Valencia de Alcántara, 1982) confesses herself to be a warrior, contested, curious and a tireless worker. As a good Virgo, she recognizes: "I have a hard time delegating to others, I am controlling and I do not like surprises." Transparent woman without folds, ensures that you are living a precious moment. "I am happy with my partner, my daughter Manuela fills me with joy and I am very excited about the arrival of my baby," says the artist, who is also on the premiere, since she has just released her new single , Soy esta mujer. "With this topic I want us to stop for a few seconds and do an exercise of reflection accepting what we like and also what we do not tolerate about ourselves, because only then can we build our best version to be happy," she says. Gone was Operación Triunfo , where it became known: "My career has not been a bed of roses. I have fought a lot and I have had successes, but also setbacks. One of my biggest disappointments was when I participated in Eurovision in 2009 . It was a hit, but I don't regret it, because I gave one hundred percent of myself. Sometimes it is necessary to stop and disappear for a while to resurface and shine with more intensity, "she confesses.
"Soraya, how are you feeling?" How are you carrying this second pregnancy?
"I'm very happy and I feel radiant." I have been able to continue working and I feel full of energy and with many beautiful sensations. Now I will give my last concert, arriving at thirty-six weeks. Moment in which I will stop to be calm at home, prepare the basket and live the final stretch of Olivia's pregnancy with calm and serenity. I am looking forward to having my little girl in my arms. I am very excited.
—How much of this woman you describe in the lyrics -["the one who cries, the one who laughs, the brave, the one who fears, the one who falls and gets up") is there of yourself?
"That woman is me, but it is also you and the others." Because we are not all that good or virtuous, nor are we all that bad and imperfect. This song is a reflection on how I am, how I feel and how I feel. But it is also a raising voice, a step forward to stand in front of the mirror and recognize ourselves in the image that the glass gives us back, accepting what we like and also what we do not tolerate about ourselves. Because I'm neither the best nor the worst.
"How many times have you stood in front of the mirror and discovered aspects that you did not like about yourself?"
--Phew! A few. But it is not a question of staying only on the outside, in the image we project, but rather that we must look beyond and go deeper inside. It is a difficult and sometimes painful exercise, but it is very constructive, because when you recognize what you do not like, and you work on it, you are shaping and building the best version of yourself to be happier and feel better about yourself.
I don't pretend to be the best mother or the best partner, I want to feel good about myself
"What do you like least about yourself?"
—With stress I have a bad temper, many mood swings, and there are times when I can't even stand it. As a good Virgo, I am controlling, I have a hard time delegating to others and I do not like surprises.
"And what do you think are your strengths?"
—I am curious, as much or more than when I was a child, I love to learn, grow, discover, and I am a tireless worker.
"What do you hope this new theme will give you?"
—I would love it to help people feel better, because music is therapeutic, and in the end, each one interprets the songs from their personal history. With this topic, I intend that we stop for a few seconds and do an exercise in reflection on what is truly important: that each one feels free, being authentic with oneself and accepting himself as he is, leaving aside unhealthy canons of beauty and power. of social networks.
—Precisely, social networks have cost you the odd dislike after posting images or personal comments. How do you live those attacks?
"I do not tolerate insults or gratuitous attacks." I am contestona and warrior, it is intrinsic in my personality. And just because I'm a popular character doesn't mean I have to put up with myself and put up with tacky comments. It's disrespectful and I can't stand it. I am direct and I do not have double faces, but I am noble and upright like my mother.
—In another stanza of the "single" "I am that woman", you talk about falling and getting up, about the successes and the missteps. How many times have you had to get up to push forward after a great disappointment?
"A few, and you learn a lot." One of my biggest disappointments was when I participated in Eurovision in 2009 and came in second to last. I do not regret having gone to represent my country, because I did it very excited and gave one hundred percent of myself, but it was a hit. From that frustrating experience I learned that you have to know how to say no. Sometimes it is necessary to stop and disappear for a while to resurface and shine more brightly.
—You say that throughout your career you have lived a lot, savoring successes and pushing ahead in the face of failures. Who have you held on to in those difficult moments to continue fighting?
—It's that life is like that, it has lights and shadows. But years ago, I ate it by myself, I kept quiet and didn't share my mishaps and failures with anyone. A mistake, because it becomes a ball and is worse. Maybe I kept quiet about it out of pride, I don't know, I was very young. Now I have learned that the first thing is to accept what happened and then I share it with my partner, with my parents, because you discover other points of view and it is also therapeutic.
—You mentioned your partner, Miguel Ángel Herrera, whom you planned to marry on September 11, and at the end, a few months ago you decided to postpone the marriage. Runaway girlfriend?
--Not at all. LOL! We decided to postpone the celebration, because doing a half wedding, due to the security measures due to the pandemic, I did not feel like anything. I want to have a wedding in style, with all my people, without restrictions. And since it can't be done now, we postpone it and nothing happens. The truth is that I have never longed to get married, perhaps because I had not found the right person or because I did not dare to take the step. But now I have been with my partner for nine years, he is the father of my daughters, we love each other very much, we understand each other great and we have a good time. Now I am looking forward to getting married.
—We know Soraya, the artist, who is continually renewed with groundbreaking looks changes, but we hardly know anything about your most personal side. How are you in privacy, when you are among yours?
--It's true. We artists give ourselves on stage to the public and fans, but in general we like to preserve our more personal side, because we are very exposed, and more now with social networks. Many will be surprised to discover that I am actually a woman of customs, traditional, very familiar, who enjoys eating with my family on Sundays and who knows how to cook and even sew. It is true that as an artist I have always carried a groundbreaking, daring image, with a modern wardrobe and with constant changes of image, blonde, brunette ... But from the inside, I am very homemade, I love making cookies for Manuela and when not I have concerts, I am the one who cleans and mops in my house.
"And what do you enjoy?" What makes you disconnect?
—With the simplest tasks, from cutting the lawn in the garden and preparing a snack for Manuela, to organizing Olivia's clothes. At home, I always find things to do. Now I have to mount the baby's crib.
—When you look back and review your career and your life trajectory, do you feel satisfied with the path you have traveled?
—A lot, but I'm ambitious and I know that I can grow more and I can improve as a person. I just turned thirty-nine and I still have a lot to shape. I want to feel better about myself, not pretending to be the best mother or the best partner, but to be myself, accepting myself, with my pluses and minuses, pampering myself and not being as critical or demanding of myself as I sometimes am.
"Is there a before and after in your career after becoming a mother?"
--Of course. Before I had Manuela, I mostly made dance music, to have fun. In addition, he was more independent and did not think about tomorrow. When I became a mother, I realized that I needed to reflect and express my concerns in my lyrics, tell my stories in the first person, and a good example of all this is this new song entitled _I am that woman_ .
—And on a personal level, has being a mother also transformed you internally?
"Yes, more than I thought, mind you." The other day I ran into a friend I hadn't seen for over twenty years and we started talking and going over moments we shared together. And curiously, she commented to me on a couple of occasions: "How you have changed, because before you were crazier, more daring, more launched, and you didn't think about things so much." And of course, I replied: "Now I am a mother and I have to think about my girls, because they depend on me." I have become more thoughtful and responsible and my priorities are them and my family, I have taken a back seat, but I am delighted and I feel very proud of the life I lead.
"So can you shout from the rooftops that you're happy?" Do you feel full?
—To affirm today that one is happy, with the terrible pandemic of covid-19 at the global level that we are facing, is scary, because there are many people who are suffering a lot. But the truth is, it would also be unfair to deny it. I am living a fantastic vital moment and I confess that I am very happy, for all that I have achieved. I have also fought a lot to get to where I have come today. Of course, this has not been a bed of roses, I have also had difficult times and they have put me to the test. But here I am, eager to continue learning and with new challenges and projects. And on a personal level, I am happy with my partner and my daughter Manuela and very excited about the arrival of Olivia, whom we will have with us shortly.