Soraya Arnelas gives birth to her second daughter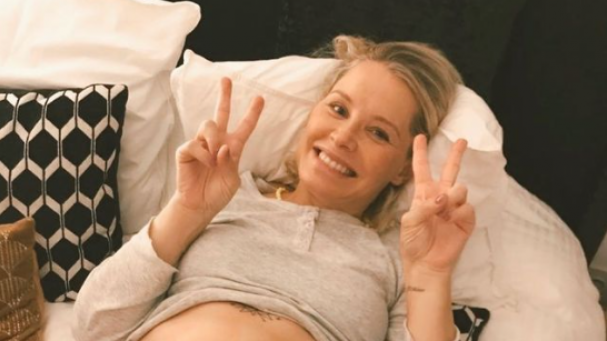 Soraya Arnelas couldn't be happier. The singer and her partner, Miguel Ángel Herrera, have been parents for the second time, as the happy mother has just announced on her Instagram account. "Your name does you justice, little Olivia. 'The one who brings Peace'. Welcome," she wrote. At the moment no more details of the birth of the little girl are known.
The couple's other daughter, Manuela Gracia, 4, was excited about the arrival of the baby that would make her an older sister. This was explained by the Extremaduran singer in a recent interview: "She wants to meet her sister, she kisses her belly, she takes care of her ... she is very affectionate and at home we are very happy.
Throughout the pregnancy Soraya has been very active fulfilling numerous commitments. Only in recent days has she decided to rest and has taken the opportunity to do direct from his home, through the networks, and explain how she was preparing for the arrival of little Olivia. "I cannot have contractions. I have built a septum in my urethra and, if I push, I will take over what was done to me in the operation of urethral detachment two years ago. That is why I have a cesarean section," Soraya explained sincerely. "For me I would love to know what day Olivia chooses to go out. In fact, I actually go out of accounts on November 10, but I am two weeks ahead of it." And she added: "I want to make that clear, which is for a medical indication. I am from natural births but this time it has happened."
She also said that she would not breastfeed her baby but would feed her with a bottle from the first moment: "I am reduced from the breast and I do not have a mammary gland, so my milk does not rise. So I am not going to breastfeed. to Olivia. "