Soraya Arnelas introduces us to her daughter Olivia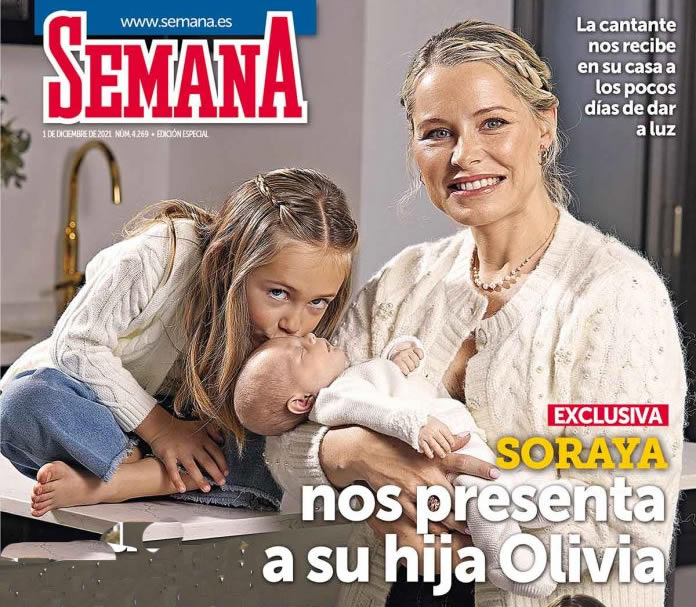 Soraya Arnelas is the star of the new WEEK issue. After this same medium published exclusively that the singer had given birth to her second daughter, Soraya presents her daughter Olivia in the pages of the new issue of your heart favorite magazine. From this Wednesday you can buy your new WEEK with a nice report with Soraya and her whole family. - - - The singer stars in a dream photo session with her entire family. In addition, she tells us how she is living these first days of life with his second daughter, whom she defines as an «angel». she also dares to draw similarities: «Physically, Olivia looks a lot like me, and she's going to have character, although it's still too early to be sure. And I also think that she is going to be tall like her sister and her father, "he admits. Although she has been a mother for the second time for only a few days and is adjusting to the new situation, Soraya does not hesitate to confess that she is already thinking of going for the third child. And it is that she confesses the desire she has to have a child at home: «When I can, we will go for the third. And this time a child plays ».
Among the details that she reveals inside SEMANA, Soraya highlights the role that her eldest daughter, Manuela, is playing, who seems not to have received the arrival of her sister as a threat. The singer herself tells how she is living the first days of her little sister's life: "The most important thing is that Manuela does not feel that someone has come to take away her place, so we are very aware of her," she acknowledges. Now she is enjoying this new stage of her life to the fullest, which she faces with calm and happiness. Until she can take up sports again, Soraya has to rest, although she has almost recovered her pre-pregnancy figure: «I still can't do sports, but I'm not in pain, the scar is fine ... I have five kilos to lose. But I take it easy.